10 Things Your Media Specialist Wants You To Know!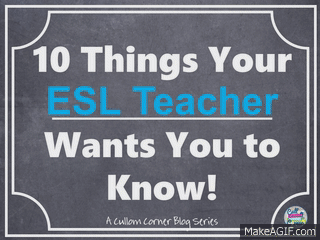 make
animated gifs
like this at MakeaGif
As a classroom teacher, I know I tend to be very much about me & what I do on a day-to-day basis. However, one of my absolute best friends in the world is a school library media specialist and has been for over a decade. Having spent years discussing our jobs, I realized one day how very one-sided we (yes, I am including myself), classroom teachers are. We really do forget that there are a lot of other people that help us do our jobs & assist our students each day. To bring more awareness to this & to help bridge the gap between those people and the classroom teacher, I came up with this blog series. I have enlisted the help of some awesome educators that are going to help us, classroom teachers, understand a little bit more about what they do, how they can help us, how they can help our students, & how we can all work together for the sake of the student learning process.
The following post was written by one of this friend that inspired my blog series but she would rather remain anonymous. Just to give you some background, she has worked in a variety of library settings and currently works in a school where she has been the only media specialist for approximately 15 years. Below is a list of some of her biggest pet-peeves that she wishes teachers realized about library media specialists.
1. I am a teacher. Every curricular change you have to study & incorporate, I do as well. I have to learn the common core and I have to become an expert on your standards all of them, for every grade level. Why? Because I am learning support. I have to bolster your lessons, reach your 'unreachable' students & try new ways to teach the topics they are struggling with before they get to me. I also have to be an expert so I can provide you with current & relevant resources. I have seen your data & I have thought of ways to help.
2.
I am not a 'special' or a break. When you bring your students in for time in the library media center, please know that my goal is to aide your instruction. Give me the information I need prior to your visit so it can be the best use of time possible. I know you are busy but if I know what objectives you are working on in class or need assistance with ahead of time, I can plan appropriately and truly make the time in the library a learning experience for your class.
3.
I am not lazy. I know you may see me quietly sitting at the computer but I promise that I'm not sitting there playing games but I am working hard to help students and teachers every minute of the day. Even if a teacher hasn't given me ways to help, I am always researching new technology, strategies, etc. that can be an asset to your classes.
4.
I am the front line of offense when it comes to facilitating college & career readiness skills. I show them how to write resumes, do job searches, find majors & colleges and I edit. I edit their essays, I offer feedback on what makes a great entrance essay and I do this because I have made myself an expert in this area. Don't hesitate to ask me for help or send your students my way. (Not all media specialists do this. Some schools have career coaches that take this position but find out what special skills your media specialist has.)
5.

I have varied job requirements that you aren't ever told about in your meetings. You are told what I can do for you but not the rigorous training & expectations I must go through & meet to remain the heart of the 'learning commons." Please don't confuse me with someone who circulates books & collects fines. I had to delegate that tiny percentage of my job when we lost our aides. I teach classes as well as run a small bookstore.
The management parts of my job that I prioritize are:
1. Creating dynamic lesson plans and creating a plan of delivery
2. Building & maintaining (ordering, analysis, & inventory) the collection
3. Point of need access for the sstudents, even in the midst of my classes
4. Reader's advisory
6.
If you think that being a library media specialist is easier than teaching, PLEASE come talk to me first before you do anything drastic. Come see me, spend time in my library, and ask questions so you can make an informed decision. Did you know schools are flooding the market with 'qualified' professionals who will never get jobs? Do you know how to try to please the majority & be other-focused rather than self-focused? Can you change your thinking from the microcosm of meeting your students needs to the macrocosm of realizing that everyone's students will be yours, with needs to fill? Can you be adequately prepared for the hidden parts of my job and the ways I struggle to keep the wizard behind the curtain so my job looks easy to you? Are you committed to a job that has faster changing technological demands and its own curriculum that you must master when you are already overwhelemed with your own? And are you prepared to serve in the role of 'misunderstood special' who will not receive breaks but instead be providing them? Are you prepared to move from 150 students to 600-2000 and the teachers who still have the same needs and expectations that you once did? Come talk to me. I will show you what's to love, tips & trips, and what to watch out for…you are in for a surprise but I would love for you to truly know who I am and what is done in the media center.
7. Sometimes I have to say no. It bothers you, but it bothers me more. If I am alone & a class comes in with no prior training to do research, learn citations, or do those extras, it is physically impossible. Schedule & plan with me; you won't be sorry.
8.
Your students are my students. Although you have them daily in your class, I treasure the time I s
spend with them. I became a school media specialist to work with students so please encourage them to come to the media center & please make time in your schedule for me.
9.
I try really hard to let you know of my services through emails, flyers, & when I am allowed to speak at faculty meetings. I often will send out the same email about a service periodically only to receive a question below the answer in a reply. Please be honest with yourself as to why you don't know what I do or can help you. Telling me you don't have time to read emails isn't helpful. Tell me what you do have time for, what is the best way to target you? My options are limited without your feedback.
10.
What are you waiting for? It takes less time to come talk to me about my services than dwell on frustration, negativity, and despondency thinking you have no help when I have a virtual neon sign waving my way. Come find out about me. You will wish you had years ago.
I don't know about you but I absolutely LOVE the media specialist at my school! She has become one of my best resources and advocates. However, I have been lucky to have a best friend that is a media specialist that has stressed to me as long as I have been teaching about the amazing ways that a media specialist can help the classroom teacher. Give your media specialist a chance to show you what they can do. Let them be a resource and advocate. You and your students will NOT be sorry!!
How often do you have your students go to the Media Center? Do you utilize the services of your media specialist? I would love to hear how other classroom teachers do this. Please comment below.