10 Things Your School Psychologist Wants You To Know!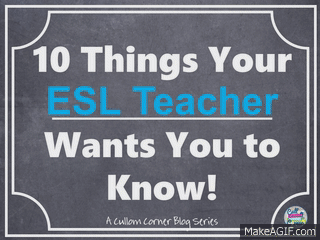 As a classroom teacher, I know I tend to be very much about me & what I do on a day-to-day basis. However, one of my absolute best friends in the world is a school library media specialist and has been for over a decade. Having spent years discussing our jobs, I realized one day how very one-sided we (yes, I am including myself), classroom teachers are. We really do forget that there are a lot of other people that help us do our jobs & assist our students each day. To bring more awareness to this & to help bridge the gap between those people and the classroom teacher, I came up with this blog series. I have enlisted the help of some awesome educators that are going to help us, classroom teachers, understand a little bit more about what they do, how they can help us, how they can help our students, & how we can all work together for the sake of the student learning process.
Our Guest Blogger today is: Laura
A little bit about Laura
Hi! I'm Laura from Social Emotional Workshop. Over the past 10 years, as a school psychologist,
special
education director, and camp director for students on the spectrum, I have had an unwavering
b
elief in
the positive impact of social
and
emotional
learning
.
My website, TPT store, and social media
is
dedicated to helping staff in schools improve student's social, emotional, and behavioral skills.
"School psychologists are uniquely qualified members of school teams that support students' ability to learn and teachers' ability to teach. They apply expertise in mental health, learning, and behavior, to help children and youth succeed academically, socially, behaviorally, and emotionally. School psychologists partner with families, teachers, school administrators, and other professionals to create safe, healthy, and supportive learning environments that strengthen connections between home, school, and the community." National Association of School Psychologists.
School psychologists' training goes beyond evaluations and IEP meetings. The role can vary in each school, district, and state. I have a strong foundation in assessment, consultation, counseling, systems level organization, crisis response, behavior support, and special education.
I work with every student. My goal every year is to know every student's name and for them to know mine.
The best description of my job was from a student I met following her being upset in class the day after she found out her parents were getting divorced. We met for 20 minutes, scheduled another session, and agreed I could call her parents and let her teachers know. When she left she asked "So you are like the problem solver?". Yup, that's exactly what I am.
2.
Data nerds unite!
Data Nerd Tip
: Put rubber bands on one wrist, move one to the other wrist when the student
does a specific behavior. Bingo, baseline data!
3.
I'm your very own consultant.
I'm obsessed with data. I want to collect it, analyze it, and make it into pretty graphs. More importantly, I make decisions based on data and not on feelings. As a school psychologist, I help teachers collect data to make informed decisions. How often does a student call out? Let's count it, develop some strategies to improve it, and then count it again to see if it worked.
School psychologists are trained in consultation and collaboration. This can be formal meetings and referrals, but also teachers dropping by, requesting an observation, or inviting me to a parent meeting. If you are concerned about a student's success and would like another set of eyes, then I'm your gal.
4.
I know s
pecial
e
ducation.
Special education loves strict timelines and deadlines also, which becomes a major guiding force in every school psychologist's day, week, and year. Special education evaluations and deadlines take priority over almost anything. Good news is I understand the process backwards and forwards and can answer any question you have.
5.
Schedule? What schedule?
All school psychologists know what FERPA, IDEA, IEP, WISC-V, BASC-3, and FBA are. Special Education loves acronyms. I am a expert in the evaluation process, assessment, law, disabilities, and mandates for students with disabilities in your classroom.
A typical day can start like this: I arrive in the building and am stopped by a teacher asking me to observe Henry, a defiant student. There's a note in my mailbox asking me to attend another parent meeting after school. Almost at my office when the principal stops me to see if I can present on restorative justice practices at the faculty meeting. In my office, I open my schedule, add an afternoon observation of Henry, and write passes for my freshman group and individual counseling sessions. I am almost set when Jeremy, a student who was recently hospitalized, walks into my office. We plan out a manageable day for him, I send emails to his teachers and schedule him for a session in the middle of the day. I have 15 minutes to prep before my girls' group when my phone rings. A student I'm testing who is always absent, just showed up. Instead of a group activity, I set up testing materials and go pick up Truant Tina from class.
There is a daily storm that hits my schedule and litters my office with the remnants of rating scales, consent forms, emails, tears, and Tuesday's cafeteria lunch.
6.
Just when I got my schedule back in order.
The good news, I am there in a crisis and I am trained to handle them.
7.
What's in it for the kids?
When I make my schedule, I know that Truant Tina might show up to school and see you later freshman girls' group. On the other hand, crisis response is harder to predict. Almost every day I am called into an urgent student situation. It can be few minutes, an hour, or all day. Then there are new evaluations, behavior plans, and counseling cases that come from that situation. I try to make my schedule run seamlessly so no one is inconvenienced or confused. So far in 10 years, I have 15 perfect schedule days. Crossing my fingers to hit 20.
So, I am a consultant, a data nerd, a special education guru, a crisis responder, and a consumer of too many planners. What do I actually do with students? School psychologists provide direct services, such as
individual
and group counseling, behavior support, crisis support, and conflict resolution. I focus on helping students develop coping skills, set attainable goals, manage strong emotions, and gain key prosocial skills. All with the goal of making them successful in the classroom and beyond. Everything I do goes back to helping make the student successful outside of my office and in the classroom. Sometimes there is just one of me, so these services are definitely for our neediest kids. I determine this much in the same way you do for academics, and it takes just as
long to remediate these needs.
8.

I love systems and consistency.
School psychologists want to be part of and lead teams that create positive school climates, manageable systems to improve learning, and efficient best practice models for every corner of the school. I am committed to creating school-wide practices that promote learning.
When RTI rolled into town, there were groans and mumbles about just another initiative. There were also shouts of glee from the small closet where the school psychologist's office is. I strongly believe in school-wide practices, a continuum of services for students, communication from general to special education, and god-like consistency to make it all work.
9.

Can you keep a secret?
There are limits to what I can disclose to staff about students. There are limits to what I can keep private for students. I want to share what teachers need to know to do their job. I also want a student to trust that what is said to me can be kept private. I want to make sure everyone is safe. This is one of my biggest responsibilities, and sometimes the most frustrating for staff. It's a constant balance.
10.

I am on your team.
Sincerely and passionately, on your team.
Thanks so much to Laura! I so appreciate her insight into what School Psychologists do! Hopefully this has given you an idea of what your School Psychologist does and how they can help you and your students to succeed. Remember, we are all in this together!
Please leave any thoughts, comments, or questions you have for me or Laura below. We would love to help you with any issue you might be having or answer any questions!