10 Things Your School Counselor Wants You To Know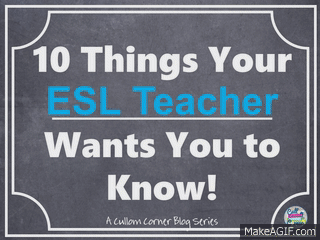 As a classroom teacher, I know I tend to be very much about me & what I do on a day-to-day basis. However, one of my absolute best friends in the world is a school library media specialist and has been for over a decade. Having spent years discussing our jobs, I realized one day how very one-sided we (yes, I am including myself), classroom teachers are. We really do forget that there are a lot of other people that help us do our jobs & assist our students each day. To bring more awareness to this & to help bridge the gap between those people and the classroom teacher, I came up with this blog series. I have enlisted the help of some awesome educators that are going to help us, classroom teachers, understand a little bit more about what they do, how they can help us, how they can help our students, & how we can all work together for the sake of the student learning process.
Our Guest Blogger today is: Gretchen
A little bit about Gretchen
Gretchen is a K-12 certified School Counselor, Licensed Mental Health Counselor, National
Certified Counselor, Certified Play Therapist, and blogger at
Speckled Moose Counseling
. She has worked with children and adolescents in various settings as a counselor, and she loves connecting and sharing ideas with counselors and educators.
Connect with her by email, or on Instagram,

Pinterest

,

Bloglovin'

, and

TpT

.
In no particular order, here are 10 things your School Counselor would like you to know.
***Be sure you click on the links that Gretchen has provided for more resources!***
1. We are not "Guidance" Counselors.
We are School Counselors
. Being called a "Guidance" Counselor sends shivers down many spines as the antiquated title often reminds people of the "old school" method of school counseling; someone would sit behind a desk, have minimal engagement with students, and push papers specific to academics and college applications. School Counselors implement data-driven comprehensive school counselor plans. We strive to follow the
standards set forth by the American School Counselor Association (ASCA)
that focus on three domains: academic development, career development, and social/emotional development.
2. We are master multitaskers.
School Counselors maintain preK-12 certification, and it doesn't matter if we're working with 1
st
graders or juniors, we are masters at doing many things at once. Our role consists of individual and small group counseling; classroom lessons; crisis intervention; parent and staff consultation; community referrals and collaboration; class scheduling; college planning and applications…just to name a few.
3. We often have to "triage" throughout our day.
It's a challenge to determine priority, when all requests are a top priority to different individuals. My first month working in my district, my superintendent was planning to attend a new student group I was facilitating. Unable to attend at the last minute, he shared apologetically that in his role he has to deal with unexpected things. My response: "It's ok. I have a job like that, too." My colleagues cringed when I shared about this interaction, as I essentially compared my position to that of district leader, but it is the truth. Many unplanned events happen daily, and whatever we planned disappears like a distant memory. When we cancel, it doesn't mean that what we had planned isn't important; it simply means a crisis needed our attention. We hope that you understand.
4. Our knowledge base is different, and we want to share our training with you.
I've had many conversations with staff about counseling related things, ranging from emotional regulation to trauma to mental health diagnoses, and I know from blank facial expressions that they often have no idea what I'm talking about. Much like how I often have no idea what you are talking about when you start rattling off math interventions. Our area of expertise encompasses the academic, career, and social/emotional domains. Sometimes I'm asked to do a risk assessment, and with the next student I'm talking about college majors. Regardless of the topic, nothing makes this counselor's heart happier than to see you taking information I shared, and using that information to better understand and support a student.
5.

We have ethical and legal guidelines regarding confidentiality.
Sometimes, we simply cannot share things with you. It's not personal. We know that you spend your days with "our" children. But we are bound to our standards, and sometimes we are unable to share with you what we know. When we do share, with the permission of our students and families or due to safety risks, please know that we're sharing this information with you to help you better understand our student and his/her circumstances. Sometimes I have had people say "aren't we just making excuses?" No. We all know that students need to be emotionally available to access your remarkable instruction. As educators we strive to understand where a student and family is coming from, to maintain empathy, and to figure out the best ways to support this child as a team.
6.

We can help you develop interventions to support our students.
A great takeaway from a behavioral training I had years ago was that all behavior is communication. This paradigm enables us to best support students who may be having a challenging time at school. Two students can demonstrate the exact same behavior, but for drastically different reasons. It's critically important to think about the antecedent to the behavior, as well as the consequence, to flush out what may be going on for a student. It's also most helpful to be concrete in behavior descriptions, e.g. "she kicked the chair twice" versus "she became violent." Examining observable behaviors together helps us all to develop more effective interventions. Working with families on behavior and social-emotional issues also helps us see the larger picture for our students.

7.

Don't underestimate the power of being present.
Everyone – youth and adults – wants to feel heard and validated. We cannot always change things for students the way we'd like, but as educators we have the opportunity to be a caring, consistent person for our students. This often starts by listening. Listen to what your students have to say – even the little things. Little things lead to big things. As Maya Angelou said, "I've learned that people will forget what you said, people will forget what you did, but people will never forget how you made them feel." Students know when they are cared for; help them feel heard, safe, and validated.
8.

We will do everything we can to support a student, but we cannot "fix" him or her.
We would all love to be able to solve issues in an instant, whether it's a student struggling with reading fluency, or a student with a behavioral issue. Unfortunately, all interventions take time. As counselors, we've been trained to "trust the process" but we know it can be incredibly frustrating to watch students struggle with certain things day in, day out.
9.

We worry about our students, too, even if we aren't openly emotional about it.
Sometimes I have colleagues comment about my lack of emotional response to certain situations. I tell them that if I cried over every horrible thing I heard, I would not make it past 9:15 AM on a daily basis. We hear the worst of the worst, day after day, and we share the pain students carry from serious issues like parental loss, family drug addiction, foster care, traumatic experiences, etc. We figure out ways to manage those emotions and responses so that we can continue to be a support and to avoid burnout. I try to take comfort in student strength and resiliency, and sometimes I cannot even fathom how some students come to school every day. I celebrate that victory.
10.

Relationships are everything.
Without them, we will get nowhere. Research demonstrates the powerful, life changing impact that one caring adult can have on a child. Building rapport and maintaining relationships is at the core of everything we do. Our relationships with students and families span 3-6 consecutive years, depending on the level. We speak with students and families openly and tackle the hardest issues on a daily basis. Our relationships with families can be an asset to you as you may be developing new relationships every semester or year. We also firmly believe that we need strong relationships with you – classroom teachers, ancillary staff and service providers, and administrators - as we work side by side with you. We value you, and as the saying goes, together we are better.
Thanks so much to Gretchen! I so appreciate her insight into what School Counselors do! Hopefully this has given you an idea of what your School Counselor does and how they can help you and your students to succeed. Remember, we are all in this together!
Please leave any thoughts, comments, or questions you have for me or Gretchen below. We would love to help you with any issue you might be having or answer any questions!