10 Things Your Special Education Teacher Wants You to Know!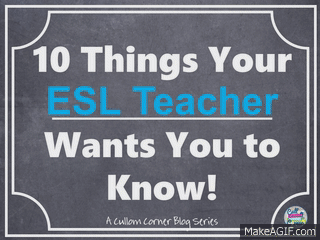 As a classroom teacher, I know I tend to be very much about me & what I do on a day-to-day basis. However, one of my absolute best friends in the world is a school library media specialist and has been for over a decade. Having spent years discussing our jobs, I realized one day how very one-sided we (yes, I am including myself), classroom teachers are. We really do forget that there are a lot of other people that help us do our jobs & assist our students each day. To bring more awareness to this & to help bridge the gap between those people and the classroom teacher, I came up with this blog series. I have enlisted the help of some awesome educators that are going to help us, classroom teachers, understand a little bit more about what they do, how they can help us, how they can help our students, & how we can all work together for the sake of the student learning process.
Our Guest Blogger today is: Kristin
A little bit about Kristin
Hello! This is Kristin from
Samson's Shoppe
. I have been a teacher for over 10 years. Next year will be my tenth year (Holy cow!) teaching special education classes to middle school students.
Check out my store for resources I have designed and used for my middle school 15:1:1 reading, ELA, Social Studies and Science students. Check out this
science freebie
!
Teaching is one of the best professions out there. However, it is so different for everyone. Subject areas, grade levels, socioeconomic levels all play a role in making teaching a different type of job for each and every educator. As a special educator, I view teaching a little bit differently than other teachers. I took my unique point of view, consulted some colleagues and compiled a top ten list of "10 Things Special Education Teachers Want You to Know."
1. Often special education teachers are switching grade levels and subject areas year after year. Sometimes we may have notice of these changes but other times it may be a sudden change. It can be difficult to know every curriculum out there. This is one reason we look to general education teachers for guidance on curriculum. You are our curriculum gurus!
J
2. Modify and differentiate are words that we live by. Any materials that can be shared with us are so greatly appreciated. Sharing is caring and can save us valuable hours of not having to recreate the wheel.
3. To piggyback off of #2, please support your Resource Room Teachers. They aren't asking for your lesson plans or materials to harass you or make your life harder. It is actually the opposite. They need to know what you are doing to better support your students. Help us, help you.
4. Paperwork, paperwork, paperwork. There is so much paperwork involved with special education. We have IEP progress notes, annual reviews, requested reviews, triennials, transitional/vocational assessments
–
just to name a few. This is all on top of the "normal" teacher paperwork that we all struggle with. Yikes!
5. Sometimes we feel like we are the red-headed stepchildren. Often we are overlooked or forgotten to be included in team or grade level meeting times. This really makes it hard to be able to collaborate or have input in planning grade level activities. Please include us!!
6. Class sizes are smaller for a reason. It's rare to have 15 perfect angels. Heck, it's rare to have 15 angels in a class size of 30! Our classes are a mixture of students with autism, speech and language impairments, intellectually disabled, emotionally disturbed or learning disabled. These mixtures can make classroom management a difficult task. Even if it looks chaotic in our classroom, it may be our most well behaved day! Please don't judge.
7. If you aren't sure of the best way to interact with a student
–
ask! Our life skills students truly benefit from as much social interaction as possible. It is helpful to ask first as some students have behaviors that we are trying to extinguish. These could be behaviors that you have no idea of. So please, interact with us but have a quick conversation first with the special education teacher.
8. Program and testing modifications/accommodations shouldn't be put into place to make work "easier" for the student. They should be there to help the student be able to demonstrate their knowledge. Sometimes this might look different from how Johnny does it. Talk to the special education teacher if you disagree with something.
9. Please don't get mad at us for what is on a student's IEP. The IEP process should be a collaborative process that we must follow. Most IEP meetings consist of a special and general education teacher, a psychogist and a parent. Sometimes related services may also be present as well as an administrator. What is written on an IEP should be an agreement that all members of the committee agree upon. If you disagree with something, talk to us. We might be on the same page as you and realize another meeting needs to take place to correct the issue or we can clarify why that is on there.
10. Our job has its struggles and blessings. I definitely whine on more than one occasion, get angry at an injustice or two and throw my hands up when I hit a losing battle on something I feel passionate about. No matter what, I am so happy to have the opportunity to make a difference in the lives of these unique learners and wouldn't give it up for the world.
Thanks so much to Kristin! I so appreciate her insight into what Special Education Teachers do! Hopefully this has given you an idea of what your Special Education Teacher does and how they can help you and your students to succeed. Remember, we are all in this together!
Please leave any thoughts, comments, or questions you have for me or Kristin below. We would love to help you with any issue you might be having or answer any questions!